Surfaces and Interfaces Award 2017 Winner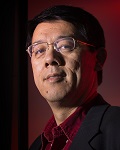 Professor Xiao Cheng Zeng
University of Nebraska-Lincoln
Awarded for his development of unified theory to understand the relationship between structure and properties of nanoscale materials at surfaces and interfaces
About the Winner
Xiao Cheng Zeng received his bachelor degree in Physics from Peking University in 1984, and his Ph.D. in Condensed Matter Physics and Liquid Physics from The Ohio State University in 1989. He pursued his postdoctoral research in Physical Chemistry at University of Chicago and UCLA. He was appointed Assistant Professor of Chemistry (1993) at the University of Nebraska-Lincoln, and promoted to Associate Professor (1998), Professor (2001), Willa Cather Professor (2002), and University Distinguished Professor (2006).
His main research interests are physical chemistry of confined water, ice, and ice hydrate in nanoscale; ions and radicals at air/water interfaces; heterogeneous catalysis on supported gold clusters; and computer-aided design of low-dimensional materials including liganded gold clusters and perovskite solar-cell materials.
He is a fellow of the American Association for the Advancement of Science (AAAS), a fellow of the American Physical Society (APS), and a fellow of Royal Society of Chemistry (FRSC). He had held a US John Simon Guggenheim fellowship (2004) and a fellowship of Japan Society for the Promotion of Science (1999). He was a recipient of the American Chemical Society (ACS) Midwest Award for Chemist of the Year (2011), Outstanding Research and Creative Activity Award (2010), Excellence in Graduate Education (2012), and Outstanding Postdoc Mentor Award (2013) at University of Nebraska-Lincoln. He has published 475+ articles in refereed journals (Google Scholar h-index: 70; citations 17000+). Four articles were featured in Chemistry World (RSC) and ten papers were featured in Chemical & Engineering News (ACS). Since 2012, he has been an Associate Editor for the journal Nanoscale (RSC).
Related Links

Professor Zeng's Webpage
University of Nebraska-Lincoln
External links will open in a new browser window