The Royal Society of Chemistry has worked with Compound Interest to produce a series of graphics showing some of the ways the chemical sciences helped tackle the pandemic.
While we were not able to cover all the scientific moments from 2020, our timeline was a snapshot of some of the extraordinary science achieved under extraordinary circumstances.
You can explore the series below, download, and share the graphics. Don't forget to tag us on social media using our handle @RoySocChem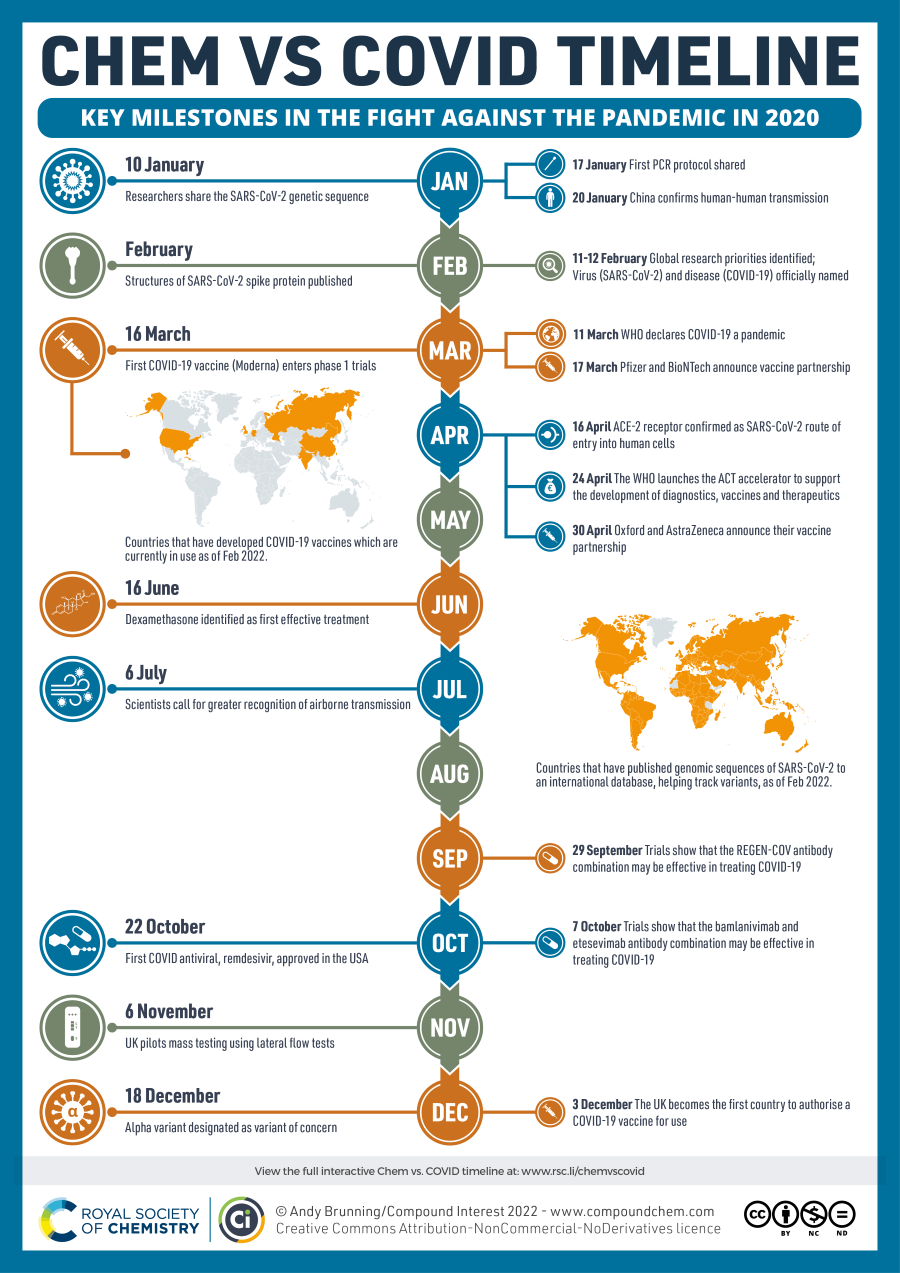 ---
Explore the full Chem vs. COVID timeline below in the fight against the pandemic in 2020
January 2020

Researchers share the SARS-CoV-2 genetic sequence

A Chinese-led consortium published a genetic sequence for the SARS-CoV-2 virus, making it free for scientists across the world to analyse and share.
View full details about this graphic
In January 2020, only 3 days after the novel coronavirus had been identified, scientists in China and Australia made the sequence available for researchers all over the world to analyse and use. This graphic from Compound Interest and Royal Society of Chemistry marks the time point when the sequence was shared and explores how it was determined.
The sharing of the genetic sequence kick-started research across the world to develop tests to identify the virus, monitor its spread, and start working on vaccines to protect against COVID-19. The high similarity of the SARS-CoV-2 genetic sequence to other coronaviruses SARS-1 and MERS enabled researchers to use previous studies of these viruses to get a head start targeting the new SARS-CoV-2.
One year on, there are four vaccines licensed for use across the world, all of which use part of the virus RNA sequence, with many more candidates in clinical trials. In addition, scientists can use changes to the genetic sequence to identify variants of the virus, such as the B.1.1.7 strain currently affecting the UK, and study how these changes impact the virus' behaviour and vaccine efficacy towards new variants.
Published: 10 January 2021
February 2020

Structures of SARS-CoV-2 spike protein published

From February 2020, studies identified structures of the SARS-CoV-2 spike protein using electron microscopy. Scientists at the University of Texas were among the first to determine the structure.
View full details about this graphic
The Royal Society of Chemistry and Compound Interest are reflecting on scientific achievements over the course of the pandemic and how the chemical sciences contribute to tackling Covid-19. By the end of February last year, scientists were releasing studies determining the structure of the SARS-CoV-2 spike protein. This is the topic of our second graphic in this series.
Why is the spike protein important? These proteins help the virus get into our cells by binding to angiotensin converting enzyme 2 (ACE-2) receptors on the cell surface. Each of the SARS-CoV-2 spikes is made up of three spike proteins. Once bound to a cell, the spike protein undergoes a change in shape to allow the virus to enter the cell. Understanding the structure of the spike proteins and how their shape changes as they interact with host receptors has been key to understanding infection and transmission of SARS-Cov-2 as well as understanding the immune response to infection.
The spike proteins are also a target for vaccine development, training our immune system to recognise them as invaders. This can be done either by exploiting our cells machinery to express these proteins (such as mRNA and viral vector vaccines) or by using a lab-made spike (protein sub-unit vaccines like Novavax).
Published: 27 February 2021
March 2020

First COVID-19 vaccine enters Phase I trials

In March 2020, Moderna's mRNA vaccine entere Phase 1 clinical trials to assess vaccine safety. The Pfizer/BioNTech and Oxford vaccines followed soon afterwards.
View full details about this graphic
On 16 March 2020, a year ago today, the first volunteer received a dose of Moderna's SARS-CoV-2 vaccine candidate as part of a Phase 1 clinical trial, just 65 days after the novel coronavirus genetic sequence was first shared. The third graphic in the Royal Society of Chemistry's ChemvsCOVID series with Compound Interest explains some of the discovery and pre-clinical research that helped get the candidates to this stage.
The rapid development of SARS-CoV-2 vaccines built on research conducted in previous years. From research on SARS-1 and MERS, viruses with similar sequences to SARS-CoV-2, researchers knew the spike protein would likely be a good target for a vaccine, which form of the spike to use, and how to stabilise this structure.
Alongside previous coronavirus research, recently developed vaccine technologies – like the RNA vaccine used by Moderna – were applied to the new virus. Working at incredible pace, this built on discovery research on how mRNA works and early work on mRNA vaccines for cancer.
More established vaccine technologies such as viral vectors were also ready to go. The vector developed by Oxford University, ChadOX1, had already shown a strong immune response in other vaccines so was quickly selected for use in their SARS-CoV-2 vaccine candidate.
Once initial, small batches of vaccines had been designed and manufactured, in vitro and in vivo pre-clinical experiments were performed to see whether the vaccine produces and immune response. During the pandemic, some pre-clinical studies were performed at the same time as Phase 1 safety trials to help accelerate the vaccine development process.
All this work contributed to having multiple vaccines licensed within a year of identification of the virus, an extraordinary achievement of teamwork and international collaboration. Many teams are already working on the next generation of SARS-CoV-2 vaccines to target emerging strains of the virus. This explainer from Wellcome has more info on some of the other factors that contributed to speedy vaccine development in 2020.
Published: 16 March 2021
June 2020

RECOVERY trial shows dexamethasone as first effective COVID-19 treatment

On 16 June 2020, the RECOVERY trial reported dexamthasone as the first proven effective treatment for COVID-19. The trial started in the UK but has been expanded to Indonesia, Nepal, and Vietnam.
View full details about this graphic
On the 16 June 2020, the RECOVERY trial announced the steroid dexamethasone as an effective treatment to reduce mortality in patients with severe COVID-19. This graphic in our series with Compound Interest shows how the RECOVERY trial used established chemistry to help tackle a new disease in COVID-19.
The RECOVERY trial started in March 2020, with a simple design to enable multiple treatments across many centres to be trialled simultaneously. On 16 June 2020, it announced the cheap and commonly used corticosteroid drug, dexamethasone, was effective in reducing mortality by 1/3 in ventilated patients and 1/5 in those receiving oxygen. In March 2021, its use was estimated to have saved 22,000 patients in the UK alone.
In February 2021, RECOVERY announced a second effective treatment, toxicumulab. In some patients, severe inflammation plays a role in COVID -19 disease. Both toxicumulab and dexamethasone have anti-inflammatory and immunosuppressant effects which may explain why they are an effective treatment for some patients with severe disease.
The RECOVERY trial was the first of its kind – enabling existing medicines to be repurposed and tested for efficacy against a novel disease in an emergency setting. Importantly, the trial has also shown several potential treatments to not be effective – it might not catch the headlines, but sharing this information is valuable for patient treatment.
The trial is ongoing, currently investigating six other treatments. In fact, exactly a year after the announcement of dexamethasone, RECOVERY has announced an investigational antibody therapy to reduce the risk of death in some COVID -19 patients. The two antibodies, developed by Regeneron, bind specifically to two sites on the SARS-CoV-2 spike protein, neutralising its ability to infect cells. The trial evidence suggests the treatment can be effective in patients whose bodies have not mounted their own antibody response to the virus.
Other clinical trials are looking at COVID -19, such as the World Health Organisation's SOLIDARITY and Remap-Cap treatments.
Published: 16 June 2021
July 2020

Scientists call for greater recognition of airborne transmission

On 6 July 2020, aerosol scientists published an open letter calling for recognition of the airborne transmission of SARS-CoV-2. We now know that surface transmission plays a lesser role than initially thought.
View full details about this graphic
On 6 July 2020 a group of scientists published an article calling for greater recognition of airborne transmission of SARS-CoV-2 virus. We've marked this in our ChemVsCovid timeline with Compound Interest in this graphic looking at SARS-CoV-2 transmission and how chemistry has helped understanding and tackling the COVID19 pandemic.
The chemical sciences have played a role in providing evidence for different methods of COVID-19 transmission. For example, in understanding the behaviour of droplets released when we breathe or cough – how droplets evaporate, how far they can travel before falling to the ground, and how long the virus can stay alive in different conditions. Understanding virus transmission helps introduce mitigations to limit the spread of COVID-19.
The pandemic has shown science happening in real-time, with evidence emerging rapidly from all over the world. The increasing understanding of methods of SARS-CoV-2 transmission throughout 2020 and until now is reflected in changes to public health measures such as the addition of "fresh air" to the UK's public health campaign. Surface transmission is now thought to play a much smaller role.
Published: 6 July 2021
October 2020

FDA approves first COVID-19 antiviral

Remdesivir became the first new antiviral drug to be approved in the USA for treatment of Covid-19. It is not as effective as first thouht but similar drugs are in development.
View full details about this graphic
On the 22 October 2020, the FDA approved the first novel drug for the treatment of COVID-19, remdesivir. The next graphic in the RSC's ChemVsCovid timeline with Compound Interest looks at drug development, including the class of compounds into which remdesivir falls – nucleoside analogues.
These molecules are structurally similar to the nucleoside building blocks of the viral RNA. They get incorporated into the viral genetic sequence, introducing errors and disrupting virus replication. Since it was approved last year, more clinical data has suggested remdesivir may not be as effective for treating COVID-19 as initially hoped, and the WHO has cautioned against its use. However, at the beginning of October 2021, Merck announced that their nucleoside analogue, molnupiravir, had reduced the risk of hospitalisation or death from COVID-19 by 50%. The active form of molnupiravir can exist in two forms (known as 'tautomers') – sometimes looking like a U and sometime like a C. As it is incorporated in place of both nucleotides, errors build up the viral RNA template. There are some concerns about side effects of drug – ongoing trials should help determine these risks, read more on this here.
There are many other anti-viral drugs in the pipeline for COVID-19, for example Pfizer's protease inhibitor candidate. Many of the most promising candidates at the moment were based on initial research targeting other viruses before the emergence of SARS-CoV-2.
Small-molecule treatments give us more options to overcome COVID-19. Looking beyond the current pandemic, some of the drugs in development for SARS-CoV-2 may be effective against other viruses in future.
Published: 22 October 2021
November 2020

UK pilots mass testing using lateral flow tests

As the pandemic progressed, quicker ways of testing for the SARS-CoV-2 virus were developed. Lateral flow tests were used for mass testing in late October in Slovakia and subsequently in the UK.
View full details about this graphic
On this day in 2020 the UK began a pilot using lateral flow devices for asymptomatic detection of Covid-19. The use of LFDs is now widespread – but how do they work? Our latest ChemVsCovid graphic with Compound Interest explains.
A sample solution is added to the device. If the virus is present, antibodies attached to gold nanoparticles in the conjugate pad of the device bind to it. The test line has antibodies immobilised to it – these also bind to the virus and the gold nanoparticles cause a red line to appear. Unbound antibodies bind at the control line, confirming the test has worked.
PCR tests remain the gold-standard for detection of Covid-19 – but they take time to perform and require specialist equipment. Scientists have been working to develop new diagnostics which combine the accuracy of PCR but are quicker and cheaper to perform. Examples include using CRISPR-Cas9 technology or using a saliva sample rather than a nasopharyngeal swab.
The development of point of care diagnostics is an exciting area of research – not just for COVID-19 but for other infectious diseases and to tackle antimicrobial resistance.
Published: 6 November 2021
December 2020

Alpha variant designated as a variant of concern

Alpha (B.1.1.7) was the first SARS-CoV-2 variant identified as a variant of concern. Subsequently, several other variants of concern have been identified. Genomic sequencing helps monitor their spread.
View full details about this graphic
On the 18 December 2021, the then termed 'Kent' variant of SARS-CoV-2 was designated a "variant of concern". A year on we have a new naming system (Kent being replaced with alpha) and are focused on omicron – but the science of tracking variants is just as important. Our latest COVID-19 graphic with @Compoundchem looks at variant tracking and how sharing genetic data has helped tackle the pandemic.
Throughout the last two years, researchers around the world have been uploading and sharing genetic sequences of SARS-CoV-2 samples, allowing us to track outbreaks, study mutations to see which may give the virus an advantage, and for public health agencies to respond.
Most recently, work of researchers in South Africa alerted the world to omicron variant. There's a lot we're still learning about omicron but mutations in the genetic sequence of its spike protein suggested it may be able to evade existing immunity and be highly transmissible. This is being borne out in neutralisation assays in the lab and in its rapid spread through communities.
As of this morning, 6,163,257 sequences had been shared via the GISAID database since the 10 January 2020. This includes data uploaded from at least 205 countries – demonstrating the truly global efforts and collaboration towards tackling the pandemic.
Published: 18 December 2021