Setting up remote access to RSC content
You can find details about how to access information remotely in this step-by-step guide. The guide will also help if for any reason you have difficulty accessing the content you want.
What would you like to know about RSC Chemical Biology?
Impact factor: n/a
Time to first decision (all decisions): 17.0 days
Time to first decision (with reviews): 31.0 days
Chair: Hiroaki Suga
Indexed in the Directory of Open Access Journals (DOAJ), PubMed Central, Scopus and Web of Science: Emerging Sources Citation Index
A new forum for agenda-setting research with global visibility
Led by Hiroaki Suga (University of Tokyo), RSC Chemical Biology is a gold open access journal, dedicated to publishing exceptionally significant and breakthrough findings of interest to the chemical biology community.

As a gold open access journal, there are no barriers to accessing content. Your research reaches an international audience, and with article processing charges waived until mid-2022, it's completely free to publish.
"I'm very excited to take on the role of Chair of the Editorial Board of RSC Chemical Biology. This new journal publishes important research sparked at the interface of chemistry and biology. I'd encourage colleagues to submit their high quality work from basic to translational research to RSC Chemical Biology."
Hiroaki Suga, Editorial Board Chair, RSC Chemical Biology.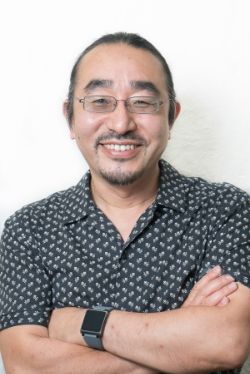 Cutting-edge
At the forefront of agenda-setting research in chemical biology, with an innovative, transparent peer review process

Visible
A gold open access journal, giving your work maximum visibility and reaching a global readership. APCs are waived until mid-2022

Trusted
Led by an editorial board of leading scientists, and published by a society committed to the wide dissemination of quality knowledge
Scope
RSC Chemical Biology is a gold open access journal dedicated to publishing and disseminating exceptional, breakthrough research and high quality reviews at the interface of chemistry and biology. All published articles must be of significant general interest to the broad chemical biology community.
We welcome contributions from across the breadth of chemical biology, from the development of new chemical and biological techniques and tools, to studies furthering the understanding and/or manipulation of biological processes at the molecular level. We also encourage translational research that bridges chemistry and chemical biology to medicine. Contributions with an emphasis on chemistry and chemical innovations in chemical biology are also welcome. Extensive biological analysis is not required as long as the data supports the hypothesis; we welcome cutting-edge research from the full breadth of chemical biology.
Topics include but are not limited to:
• Analytical methods (including sensing, imaging, spectroscopy, omics)
• Bioorthogonal chemistry
• Biosynthesis, biomimetics and bioengineering
• Chemical synthesis and synthetic biology
• Directed evolution
• Drugs and small molecules (including prodrugs)
• Glycoscience
• Lipids
• Natural products
• Nucleic acids (including DNA, RNA, mRNA and siRNA, modifications and gene delivery)
• Peptides
• Phenotypic screening
• Proteins (including protein-protein interactions, modifications, structure and function)
Transparent peer review policy
To support increased transparency, we offer authors the option to publish the peer review history alongside their article. Reviewers are anonymous unless they choose to sign their report.
Find out more about our transparent peer review policy.
Editorial board
Advisory board
Luc Brunsveld, Eindhoven University of Technology, The Netherlands
Christopher Chang, University of California, Berkeley, USA
Peng Chen, Peking University, China
Russell Cox, Leibniz University Hannover, Germany
Paul Dyson, EPFL, Switzerland
Dorothea Fiedler, FMP Berlin, Germany
Christian Hackenberger, FMP Berlin, Germany
Don Hilvert, ETH Zürich, Switzerland
Guifang Jia, Peking University, China
May Khanna, University of Arizona, USA
Maja Köhn, University of Freiburg, Germany
Yamuna Krishnan, University of Chicago, USA
Lei Liu, Tsinghua University, China
Elizabeth Nolan, Massachusetts Institute of Technology, USA
Chudi Ndubaku, ORIC Pharmaceuticals, USA
Hermen Overkleeft, Leiden University, The Netherlands
Jennifer Prescher, University of California, Irvine, USA
Christopher Schofield, University of Oxford, UK
Pamela Silver, Harvard Medical School, USA
Giulio Superti-Furga, Medical University of Vienna, Austria
Xiu-Jie Wang, CAS, China
Kira Weissman, University of Lorraine, France
Editorial office
Anna Rulka, Executive Editor ORCID 0000-0002-3236-9801
Kathryn Gempf, Deputy Editor ORCID 0000-0001-7595-0623
Laura Daly, Development Editor ORCID 0000-0002-0980-2611
Allegra Hartley, Editorial Assistant
Anna Meehan, Editorial Production Manager
Kate Jones, Publishing Editor
Aphra Murray, Publishing Editor ORCID 0000-0001-5469-2960
Jamie Purcell, Publishing Editor
Laura Smith, Publishing Editor ORCID 0000-0002-2976-8529
Ellis Wilde, Publishing Editor ORCID 0000-0002-9640-5947
David Bishop, Publishing Assistant
Neil Hammond, Publisher
Open access
There are no submission charges for RSC Chemical Biology, and no article processing charges until mid-2022. As part of the submission process, authors will be asked to agree to the RSC Chemical Biology open access terms & conditions.
We offer RSC Chemical Biology authors a choice of two Creative Commons licences: CC BY or CC BY NC. Publication under these licences means that authors retain copyright of their article, but users are allowed to read, download, copy, distribute, print, search, or link to the full texts of articles, or use them for any other lawful purpose, without asking prior permission from the publisher or the author. Read our open access statement for further information.
All published articles are deposited with LOCKSS, CLOCKSS, Portico and the British Library for archiving.
Dive into the benefits of open access publishing
Find out more about open access publishing routes
Explore Royal Society of Chemistry open access journals
Read our Researchers' voice report in response to Plan S
Article types
RSC Chemical Biology publishes:
Communications
Full papers
Review
Opinions
Comments
See more information about these article types
Article types
Communications
A complete study or preliminary report of exceptionally high quality and significance, whose interest to the chemical biology community warrants rapid publication. Authors should supply with their submission a justification of why the work merits urgent publication as a Communication; reviewers will be asked to judge the work on these grounds.
Communications are prioritised for rapid publication and are highly visible as they are published at the front of an issue. Although there is no page limit for a Communication, they will not normally exceed the length of four printed journal pages. Authors are encouraged to provide a succinct and relevant introduction to the research and to consider the use of the electronic supplementary information for additional material.
Full papers
Full accounts of original research of exceptionally high quality and significance, appealing to the broad chemical biology community. Authors are encouraged to emphasise the importance and potential impact of the research presented. There are no restrictions on the length of a full Paper.
Reviews
Reviews published in RSC Chemical Biology must be very high quality, authoritative, state-of-the-art accounts of the selected research field. Reviews are invited by the RSC Chemical Biology Editorial Board and Editorial Office. Authors interested in submitting a review should contact the Editorial Office at chembio-rsc@rsc.org.
Reviews may be shorter summaries highlighting important recent developments, or more detailed, balanced accounts, of the selected research field. Reviews should be timely and provide new insight to the existing literature as well as being of general interest to the chemical biology community. They should focus on key developments, rather than be comprehensive reviews of the literature, and can provide perspectives of the future development in the field.
Authors are encouraged to identify areas in the field where further developments are imminent or of urgent need, and of significance to the community in general. All Reviews undergo a rigorous and full peer review procedure, in the same way as full Papers.
Opinion
Opinions are short, personal viewpoints on a topic of current interest to the community. They can be speculative in nature, and provided that they are not defamatory to the work of others, can be controversial and stimulate counter-opinion. They should contain rigorous, evidence-backed scientific justification, and bring significant and valuable insights to the field.
Opinions are typically three to four pages in length and are published by invitation of the RSC Chemical Biology Editorial Board or Editorial Office. Authors interested in submitting a review should contact the Editorial Office at chembio-rsc@rsc.org. Opinions undergo a rigorous and full peer review procedure, in the same way as Full Papers.
Comments/Replies
Comments and Replies are a medium for the discussion and exchange of scientific opinions between authors and readers concerning material published in RSC Chemical Biology.
For publication, a Comment should present an alternative analysis of and/or new insight into the previously published material. Any Reply should further the discussion presented in the original article and the Comment. Comments and Replies that contain any form of personal attack are not suitable for publication.
Comments that are acceptable for publication will be forwarded to the authors of the work being discussed, and these authors will be given the opportunity to submit a Reply. The Comment and Reply will both be subject to rigorous peer review in consultation with the journal's Editorial Board where appropriate. The Comment and Reply will be published together.
Author Guidelines 
For general guidance on preparing an article please visit our Prepare your article page, the content of which is relevant to all our journals.
To learn more about the Royal Society of Chemistry's policies and processes, including licensing, peer review and formatting, please refer to our Resources for authors page.
Journal specific guidelines
Does the work present an important advance over existing chemical biology literature?
Have you provided sufficient evidence/data to support your conclusions?
Have you provided adequate characterisation data for your compounds? (Please check the supporting information section to ensure that the necessary requirements have been met and copies of relevant spectra have been provided where necessary.)
Are the results discussed in the context of the literature?
Are the references relevant and appropriately reflect the existing literature?

Peer Review and Editorial Process
RSC Chemical Biology strives for a rigorous, fair and rapid peer review procedure. On submission to the journal, manuscripts undergo an initial assessment by a team of professional editors to ensure they meet essential criteria for publication in the journal; those manuscripts which are successful in this review are passed to an associate editor for further consideration.
RSC Chemical Biology follows a single-anonymised peer review process, with manuscripts handled by a team of internationally recognised associate editors, all practising scientists in the field. It consists of the following stages:
Phase 1: Your manuscript is initially assessed by an associate editor.
Phase 2: The associate editor solicits the expertise of at least two reviewers to assess your article and submit a report.
Phase 3: The associate editor handling your manuscript makes a decision based on the reviewer reports received. In the event that no clear decision can be made, another reviewer will be consulted.
Please refer to our processes and policies for full details including our appeals procedure.
Subscription information
RSC Chemical Biology is fully gold open access – articles can be downloaded free from the website with no barriers to access.
Online only: ISSN 2633-0679
Copyright
Copyright is retained by authors when an open access licence is accepted, as with our standard licence to publish agreement. Full and accurate attribution to the original author is required for any re-use of the work. Find out more about copyright, licences and re-use permission.
Sign up to hear more from RSC Chemical Biology

Complete the form below to receive news alerts and issue alerts from RSC Chemical Biology.
For post-submission queries, please contact Anna Meehan, Editorial Production Manager
Email:
Share