2019 Surfaces and Interfaces Award Winner
Professor Molly Stevens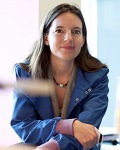 Imperial College London
Awarded for the development of smart materials that interface with biological environments for use in biosensing and regenerative medicine.
About the Winner
Molly Stevens is Professor of Biomedical Materials and Regenerative Medicine and the Research Director for Biomedical Material Sciences at Imperial College London. She graduated with a First Class Honours BPharm degree from Bath University in 1995 and a PhD from the University of Nottingham in 2001. After postdoctoral research at the Langer group in MIT, she joined Imperial College London in 2004 as a lecturer and was promoted to Professor in 2008, being one of the youngest Professors ever in the history of the institution.
Prof Stevens' multidisciplinary research balances the investigation of fundamental science with the development of technology to address some of the major healthcare challenges. Prof Stevens' work has been instrumental in elucidating the cell-material interface. She has contributed a number of important advances in the field of surface biofunctionalisation with broad applications in regenerative medicine, drug delivery and biosensing.
Prof Stevens is Fellow of 7 UK Societies including the Royal Society of Chemistry and the Royal Academy of Engineering. In 2019, she was elected Foreign Member of the National Academy of Engineering (USA). She holds numerous leadership positions including Director of the UK Regenerative Medicine Platform Smart Materials Hub and Deputy Director of i-sense EPSRC Interdisciplinary Research Collaboration for Early-Warning Sensing Systems for Infectious Disease.

Related Links

Molly Stevens Webpage
Imperial College London
External links will open in a new browser window