Synthetic (manufactured) chemicals are a part of everyday life – they are everywhere and in everything. They can enter the environment through consumer use or industrial processes. Once in the environment, some end up in our bodies, in wild flora and fauna, or in the atmosphere, potentially driving climate change.
Chemicals production and consumption is set to double by 2030, from a $5 trillion industry globally in 2017, with production set to increase, mainly in emerging economies. If chemicals production is doubled, chemical pollution must not double as a consequence – rather we should aim to significantly reduce it from current levels.
Current international attempts at the massive undertaking of addressing chemical pollution are not working. For the world to solve the major environmental and health challenges we face, there must be a sustainable chemicals revolution. We can only achieve this through senior-level engagement with the chemical sciences community through an authoritative, intergovernmental science-policy interface.
Early in 2020, we engaged with scientists in our community to develop our vision for a chemicals strategy, relevant to any nation in principle. We identified four pillars on which any chemicals strategy has to be based: education, innovation, circular economy and regulation. National governments must invest in these areas and create a responsible framework of action for chemicals management.
The UK context for a new chemicals framework
The UK must decide how to manage chemicals after the Brexit transition period ends. It should adopt a pragmatic risk-based approach in future chemicals policies, with science at their heart and high environmental standards.
Building on our initial vision for chemicals strategy, we have drafted a document outlining the drivers and scope for a new UK-wide chemicals framework.
UN Strategic Approach for International Chemicals Management (SAICM)
In 2021, the RSC will participate in the discussions within UN SAICM about the establishment of a new science-policy interface for chemicals. The provision of scientific advice is currently a major gap in UN SAICM. We are calling for a new intergovernmental panel for chemicals and waste management on a par with the IPCC and IPBES. We have shared with the UN our policy position statement, which you can read here.
If you would like to get involved in the UN science-policy interface process, it is open to all interested and authoritative organisations. Further information can be found on the UN SAICM website within virtual working group 2 on 'Governance and mechanisms to support implementation'. The UN report SAICM/IP.4/4 on 'Assessment of options for strengthening the science-policy interface at the international level for the sound management of chemicals and waste' can also be found on the UN SAICM website. This document explains all of the options on the table, and the RSC advocates for Option A.
Chemicals strategy - four pillars
Download the full policy position where we present our vision statements for each pillar of a future chemicals strategy on a 2030 horizon.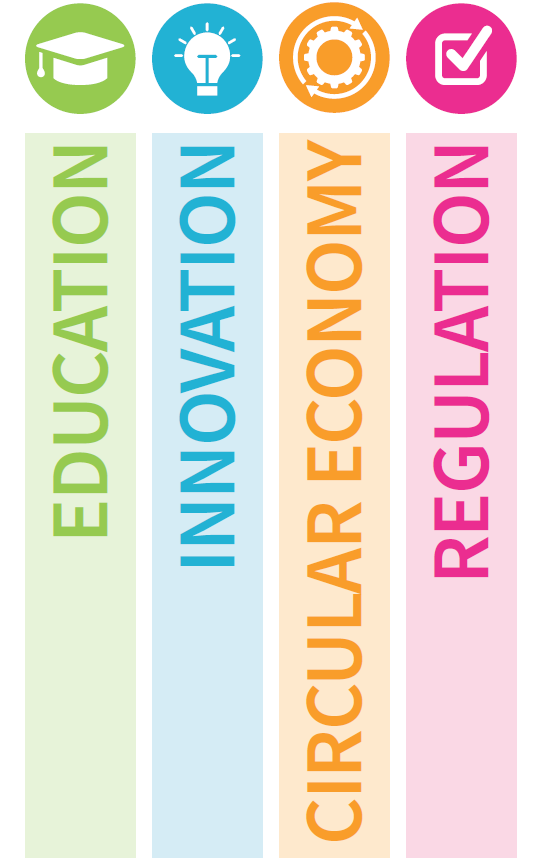 Enablers
Research and new knowledge
Data
Evidence
Digital
Resources
Funding
Skills and workforce
Infrastructure
Governance
An efficient and accountable decision-making framework