Honour for scientist who became Manchester United's Chief Scout
15 September 2005
The Royal Society of Chemistry has honoured a chemical scientist who made his mark in academia before transferring his analytical powers to the world of top-flight professional football and in doing so became a name known to football fans all over the world.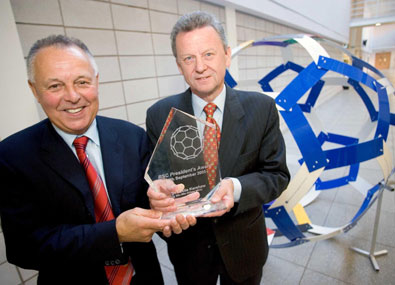 The President's award presented to Dr Les Kershaw by Dr Simon Campbell
Academic Dr Les Kershaw was recruited from Manchester Metropolitan University by Sir Alex Ferguson who had recognised and valued his powers of objectivity and dedication serving as a part-time scout for Arsenal under George Graham travelling around England.
From that early alliance between manager and chemist Dr Kershaw rose to become head of the Manchester United Football Academy, regarded around the world as an exemplar of good practice and a platform for the club's outstanding domestic and international success in the 1990s and beyond.
Now the Royal Society of Chemistry is paying tribute to a man who demonstrated that the observational and logical skills a scientist brings to the laboratory and lecture environment can also be employed in many other fields of endeavour including sport.
The award marks in particular work undertaken by Les Kershaw at Manchester United when the club hosted a science workshop in its indoor training facility for more than 500 local children who were able to learn about the celebrated C60 ('Buckyball') molecule that has the 60-faceted shape of a football.
Joint discoverer of the legendary buckyball Professor, Sir Harry Kroto, conducted the workshop with the support of Dr Kershaw and with the cooperation of Sir Alex Ferguson and some of his first team and academy players.
Performed en masse at the Carrington Road academy on Manchester's outskirts using gigantic plastic buckyballs and orchestrated by Professor Kroto using a microphone, the workshop stirred tremendous interest in chemistry in the north-west and is now viewed as a model method of transmitting the essence of science to the young.
Nobel Prize winner Sir Harry now works in the USA and in his absence the award was presented to Dr Kershaw by Dr Simon Campbell, his successor as RSC President. The President's award was presented to Les Kershaw at Manchester Metropolitan University's Tuesday 20 September 2005.

Contact and Further Information
Press Office
Royal Society of Chemistry, Burlington House, Piccadilly, London W1J 0BA
Tel: +44 (0)1223 432294
Fax: +44 (0)1223 426594

---