Former RSC President Professor Charles Rees dies, aged 78
22 September 2006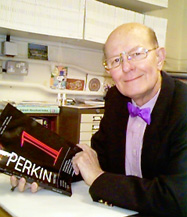 Professor Charles Rees, wearing Mauveine-dyed bow tie and holding Perkin Journal. Photo by Henry S. Rzepa
It is with great sadness that the Royal Society of Chemistry announces the death of former President Professor Charles Rees on Thursday 21 September 2006. Prof Rees was the President of the RSC for two years, from 1992-94. He had served on its Council and many boards and committees at various times.
Prof Rees was the RSC's Tilden Lecturer in 1974, the Pedler Lecturer in 1984, and Chairman of the Publication and Information Board for four years. Between 1981 and 1983, he was President of the Perkin Division of the RSC and served as President of the Chemistry Association for the Advancement of Science. From 2004 until his death, he also served on the RSC Travel Grants Committee, and sat on the Journals Grants for International Authors Committee.
Prof Rees received the first RSC Award in Heterocyclic Chemistry in 1980 and the International Society of Heterocyclic Chemistry's Senior Award in 1995 - the same year he was awarded a CBE in the New Year's Honours List.
Born in Egypt in 1927, Prof Rees was educated at Farnham Grammar School, before working for three years as a laboratory technician at the Royal Aircraft Establishment.

He then attended University College, Southampton (later the University of Southampton), and graduated in 1950. He also completed his PhD at Southampton, before spending two years completing postdoctoral research at the Australian National University (which although based in Canberra had outpost labs at Euston Road, London). After this, he was appointed assistant lecturer at Birkbeck College in 1955.
After two years at Birkbeck, Prof Rees moved to King's College London, where he spent eight years as a reader and lecturer. He collaborated for several years with Prof Donald Hey on various aspects of heterocyclic chemistry, and was appointed to his first Chair at Leicester University in 1965.
By 1969 he was Professor of Organic Chemistry at Liverpool, and in 1977 he succeeded Prof George Kenner as Heath Harrison Professor of Organic Chemistry. One year later Prof Rees was appointed Hofmann Professor of Organic Chemistry at Imperial College London, where he remained until his retirement in 1993.
Prof Rees' research interests ranged widely over mechanistic and synthetic organic chemistry. Much of his work was concerned with heterocyclic chemistry, particularly the synthesis and chemistry of new heterocyclic rings, with an emphasis on aromatic and antiaromatic rings, and the role of reactive intermediates in heterocyclic chemistry. Recently, he had been working on heterocyclic systems with unusually high proportions of nitrogen and sulphur heteroatoms.
Prof Rees had approximately 450 papers published over his long and diverse career. Amongst the many contributions to chemistry he has made, his two papers describing the brilliantly conceived generation of benzyne and [1,8]-dihydronaphthalene by the lead(IV) acetate oxidation of N-amino heterocycles, are considered classic papers from that era.
He was elected a Fellow of the Royal Society in 1974 - and was awarded an Honorary DSc by the University of Leicester in 1994, by the University of Sunderland in 2000 and by the University of London in 2003.
Dr Richard Pike, chief executive of the RSC, said: "The RSC was saddened to hear of the death of Professor Rees. He gave many years of distinguished service to the RSC, both as President and on numerous committees.
"He was held in the highest regard by everyone who knew him, and will be sadly missed by all of them."
Professor Richard Templer, head of chemistry, Imperial College, London said: "Charles' record of academic achievements were legendary, but to the many people who new Charles his most remarkable achievements were human and personal.

"He was a great wit and raconteur, with enormous charm, an expert on fine wines and the finest company you could wish.

"It is rare that you can say of a colleague that he was truly loved by those whose lives he touched, but this was true of Charles. We will all miss him acutely. "
Professor Charles Rees CBE FRS FRSC, born 15 October 1927, died 21 September 2006. He leaves behind wife Tricia and three sons David, George and Michael.

Contact and Further Information
Press Office
Royal Society of Chemistry, Burlington House, Piccadilly, London, W1J 0BA

---