Alcester teenager on the podium in International Chemistry Olympiad
28 July 2011
An Alcester teenager has become one of the world's top three chemistry students after winning gold at the International Chemistry Olympiad 2011.
David Edey, 17, scored an almost perfect 94.8 per cent in the gruelling final exam of the 43rd Royal Society of Chemistry Olympiad, held in Turkey earlier this month. David was competing against 272 students from 70 countries.
The final exam - a 5 hour practical and 3 hour theoretical exam - is the culmination of a series of tests that students must pass before being selected for their national team. Round one is a challenging two hour paper taken at the students' own school. Teachers can submit as many students as they wish with questions designed to be context based and really test student knowledge
The University of Cambridge hosted the next round where 20 students were selected. They sat a three hour practical exam followed by a 3 hour theoretical exam. The top four students were selected to form the UK Team who travelled to Turkey. Travelling with David were Abdul Mohamad, from King Edward VIth Grammar School, Chelmsford, Nicholas Parker, from Haberdashers' Askes Boys' School, Elstree and Douglas Buisson, from Hills Road Sixth Form College, Cambridge. In addition to the gold medal, the team also picked up a silver and a bronze medal.
The foursome participated in a training week at the University of Cambridge before the competition. They departed for Turkey after meeting with Professor David Phillips, President of the RSC, and representatives of chemicals company INEOS, who support the competition. It was the second time David has taken part in the competition after scoring 78 per cent at the 2010 finals in Japan.
David said: "I had an amazing time, both in meeting like-minded chemists from across the world, and experiencing all the culture (and food!) that Turkey has to offer. The five hour practical and theoretical papers went much better than I had realised at the time, and I was lucky enough to come away with a gold medal and 3rd in the world.
"I'd like to thank the mentors who put in a lot of time and work to get us ready for the competition, but also of course to the staff at the Royal Society of Chemistry for all the time and money they put in to organising everything; and also to INEOS for providing the bulk of the funding. It really is an amazing competition, and a brilliant showcase for chemistry."
David is hoping to study maths at St Catharine's College, Cambridge, next year: "I was torn between maths and natural sciences or chemistry for a long time over the summer, especially after the experience of the International Chemistry Olympiad in Japan last year!"
Dr Penny Robotham, Alcester Grammar School head of science, praised David for being an excellent student and a "dynamic and enthusiastic learner" who has already achieved 12 GCSEs at A* and five A's at AS level. David has attended Alcester Grammar, a state school with selective years 7-11, non-selective for sixth form, for the last seven years. He is currently studying chemistry, physics, maths and further maths.
"In a year group of 240, David is without doubt one of the most able students this school has seen for many years," added Dr Robotham. "David is without a doubt one of the brightest chemists we have had the pleasure to teach in many years. Beyond his academic studies (where he is yet to drop a mark after 5 modules), he helps run a science club in a local primary school which was extremely popular and successful.
"David's intellectual ability cannot be overstated. It has been many years since Alcester Grammar School has seen a pupil with this much talent."
As a year 12 student, David gained a gold medal in the Senior Mathematical Challenge and qualified for the British Mathematical Olympiad and represented Alcester Grammar school in the Senior Team Mathematical Challenge. In the National Cypher Challenge David has finished in the top three for the past two years, working individually and competing against other teams which often include several members.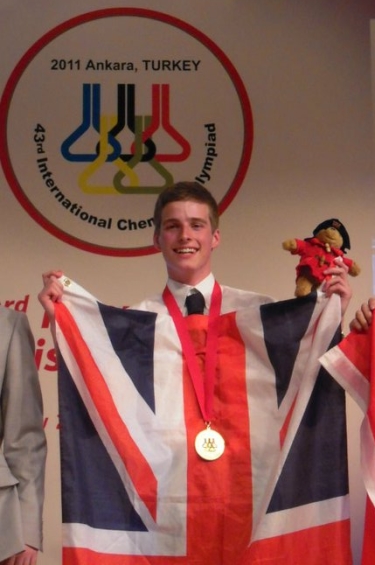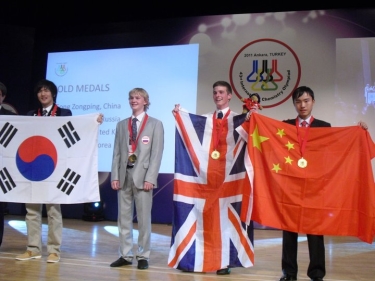 Notes for editors:
Picture caption 1 - David celebrating his victory in Ankara
Picture caption 2 - David standing with fellow gold medal winners from South Korea, Russia and China
Picture caption 3 - The UK team with David, third from left. Also pictured with the team are Chas McCaw and Ben Pilgrim, who acted as Mentors for the team and accompanied them to Turkey.
Registration for the 2012 competition will open in October with next year's final held in Washington DC.
Contact and Further Information