ChemSpider's Antony Williams honoured for making science easier for scientists
11 October 2012
Dr Antony Williams, VP for Strategic Development and Head of the Cheminformatics group for the Royal Society of Chemistry has been honoured by Microsoft Research for his outstanding contribution to the field of data-intensive computing, especially for his work on the ChemSpider platform.
Williams received the 2012 Jim Gray eScience Award at a banquet marking the end of this year's Microsoft eScience Workshop in Chicago, Illinois, USA on Tuesday 9 October.
The award - named after Jim Gray, a Technical Fellow for Microsoft Research and a Turing Award winner - recognises innovators whose work makes science easier for scientists.
ChemSpider is a freely available chemical structure database that provides fast text and structure search access to data and links for over 28 million chemicals, from hundreds of data sources. Data on the ChemSpider platform can be deposited, annotated and curated by the chemical sciences community and it is one of the richest sources of integrated chemistry information available online.
Tony Hey, Vice President, Microsoft Research Connections said: "Antony's selection as the 2012 winner of the Jim Gray eScience Award acknowledges his leadership in making chemistry publically available through collective action. Like the previous five winners of the award, Antony's contributions to eScience have led to the advancement of science through the use of computing.
"I am sure that Jim would be pleased with this year's choice."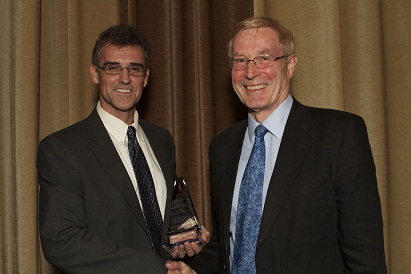 Antony Williams receives the Jim Gray eScience Award from Tony Hey at the 2012 Microsoft Research eScience Workshop
Related Link
Search 28 million chemical structures and their properties, patents, publications and more.
Contact and Further Information
Victoria Steven
Media Relations Executive
Royal Society of Chemistry, Burlington House, Piccadilly, London W1J 0BA
Tel: +44 (0) 20 7440 3322

---