Britain half a century behind the United States when it comes to women in science, says RSC President-Elect
08 May 2012
Great Britain is half a century behind the United States when it comes to comparing opportunities for women in science, the Royal Society of Chemistry's President-Elect said today.
Professor Lesley Yellowlees, who becomes the RSC's first ever female President in July, said it would take nearly five decades to catch up with the US in terms of the number of women in senior academic positions.
She pointed to the pioneering work of the Association for Women in Science (AWIS), which was founded in 1971, as a basis for how far equality issues have progressed in the US.
"More than 40 years on, it is obvious how important an organisation such as AWIS has been," said Professor Yellowlees. "When the National Academy of Science announced their 2012 electees last week, 24 of the 84 - more than one on every four - were women.
"When the Royal Society announced their 2012 Fellows earlier in the month, just two in 44 were women. It's no surprise that in the UK we have nothing compared to AWIS and it shows."
Professor Yellowlees said the British equivalent to AWIS - the United Kingdom Resource Centre (UKRC) - was only established in 2004. It then merged with the leading gender equality and diversity organisation WISE in 2011.
"And who hosts WISE and how it is funded often changes so there is fragmentation there, which needs to be addressed," she added.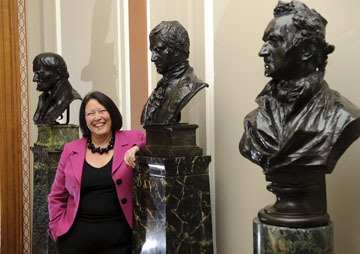 Professor Lesley Yellowlees in between busts of John Dalton and Humphrey Davy at the RSC's office in Burlington House, Piccadilly
Professor Yellowlees said very high-profile supporters regularly attended AWIS events. Michelle Obama recently attended a Girls in STEM event discussing the issue with AWIS President Joan Herbers and pupils.
"And just a couple of weeks ago, the White House hosted a discussion on Women in STEM where one of the panellists discussed NASA chemist Tracy Dyson's stay on the International Space Station," added Professor Yellowlees. "It is this level of profile we should aspire to for female scientists in the UK."
Professor Yellowlees, Vice Principal at the University of Edinburgh, was speaking on the eve of her keynote speech at the 4th annual Science Scotland in Glasgow. Discussing the value of science to the Scottish economy, she will outline the value of science both as an export and in terms of attracting investment.
Speaking of the challenges ahead, Professor Yellowlees will say: "Around 70,000 jobs in Scotland are directly dependent on the chemical sciences sector with more than £9bn generated. I will never tire of telling politicians just how important our sector is to the health and well being of the nation."
*This article originally said WISE was founded in 2004. It has now been corrected to state that was the year UKRC was founded.
Related Links

Science Scotland 2012
Science is playing an important role in the current economic climate. As one of Scotland's most successful industries, the challenge for education providers is to develop a workforce with the necessary skills to provide creative solutions within this new environment.
External links will open in a new browser window
Contact and Further Information