Chemical Landmark blue plaque celebrates life and work of Harry Kroto
Former Royal Society of Chemistry president and Nobel Laureate Professor Sir Harry Kroto FRSC FRS has been commemorated with a new Chemical Landmarks blue plaque at the University of Sussex.
Professor Kroto, who died in 2016, received the Nobel Prize in Chemistry in 1996 for his discovery of a new form of carbon, Buckminsterfullerene. This form is made up of 60 carbon atoms, and termed C60 or the Buckyball – due to its composition of pentagons and hexagons which resembled that of a football and the architecture of US architect Buckminster Fuller. The discovery was especially remarkable as, up until that point, pure carbon was only known to exist as diamond or graphite, not as a molecule.
The discovery, which Sir Harry readily acknowledged was only possible due to collaboration with other scientists, was closely followed by that of larger carbon cage structures and nanotubes.
Professor Sir Harry Kroto joined the University of Sussex, in their newly formed School of Chemistry and Molecular Sciences, in 1967. 2021 marked the 25th anniversary of the Nobel Prize and to commemorate, a chemical landmark blue plaque awarded by the Royal Society of Chemistry has been unveiled on the university's Falmer campus, on the Chichester building. It is our first blue plaque to be awarded for four years and takes place during the University's 60th year.
Dr Helen Pain, CEO of the Royal Society of Chemistry, took part in the celebration at Sussex, saying: "Harry inspired so many people with his vision for chemistry and passion for outreach. He was at the forefront of change and at the RSC we have so much to thank him for."
Professor David Maguire, Vice-Chancellor of the University of Sussex said: "Professor Sir Harry Kroto was an inspiration to many with his Nobel Prize-winning discovery as well as his passion for teaching Chemistry; evidenced in the fact that many of our current researchers at Sussex were once students of his.
"We are proud that the Royal Society of Chemistry has awarded a chemical landmark blue plaque to Sir Harry. This provides the campus community with a way to commemorate both his scientific achievements and commitment to the power of education to bring about real and positive change in society."
Chemical landmarks
The Royal Society of Chemistry Chemical Landmark blue plaques mark sites where people in the chemistry community have made significant contributions to making the world a better place.
The first was awarded in 1980 and there are now nearly 70 plaques around the UK. They celebrate the diverse people who make up the chemistry community, as well as their work and impact.
The day was a celebration of Sir Harry's passion for science and for promoting science engagement. Before the plaque unveiling, Sir Harry's former PhD students, who are now professional science communicators, led an outreach event for local school children. An afternoon of research talks followed the unveiling with experts from the University of Sussex, Penn State University, the University of Edinburgh and the University of Basel. Sir Harry's wife, Lady Margaret Kroto, also helped announce the winner of the Kroto Award for Public Engagement; an internal award for staff from the School of Life Sciences.
Professor Hazel Cox, Professor of Theoretical and Computational Quantum Chemistry at the University of Sussex said: "Harry was a thoughtful, creative, and invigorating colleague, his enthusiasm for chemistry and public engagement was contagious and inspirational. We're absolutely delighted that this plaque will be installed to recognise and commemorate his pioneering work and significant contribution to the chemical sciences."
Find out more...
Find out more about our blue plaque scheme and see other recipients

Celebrating diverse people, discoveries, and impacts
Find out more about our chemical landmarks, see other recipients, and find a blue plaque near you.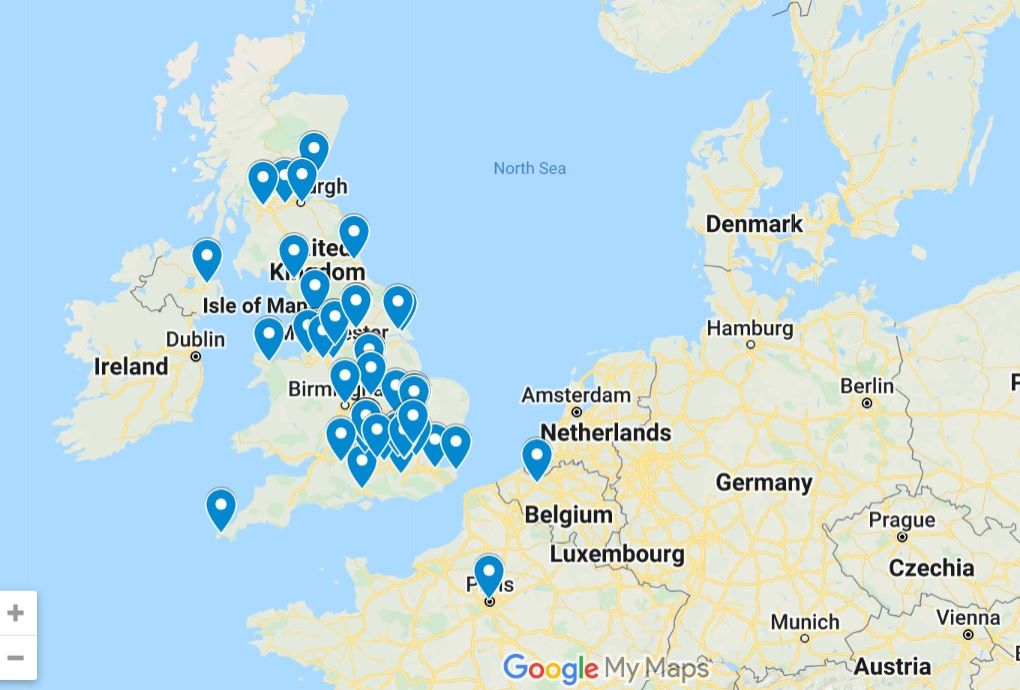 Share